Best washing machine in India 2023
Best washing machine for an Indian home and a dream of every middle-class woman for their home. We always do some research before buying any appliance because we need the best option of products within our budget
Nowadays every family needs a washing machine because people don't have time to wash clothes on their hands you can also see that TV ads on washing bars decreased in comparison to 2 or 3 years ago.
Finding the best washing machine which is suitable to your requirements is a tough job. In the market, there are several washing machine brands with a variety of models and It's a very confusing one to decide.
In this article, we tried to clear your confusion about the Best washing machine in India 2022.
After reading this article you will be able to decide by yourself which brand and model of washing machine is suitable for your family.
The best washing machine in India 2023 is listed with the best price
1. LG 8.0 Kg Inverter Fully-Automatic Front-Loading Best Washing Machine – FH2G6TDNL42
One of the best-branded washing machines available in India.
Main Features 
Fully Automatic front-load washing machine
Best suitable for medium size family 5 members  or more with a capacity of 8 kg
1200 RPM spin speed for a clean wash
6-motion direct drive motor with a touch panel
Deep cleaning  with an inbuilt heater
Smart diagnostic features
Stainless steel drum
This washing machine works very cleanly for dust, and pet allergens you can get rid of all impurities from your clothes. 
6 motion direct drive technology The Washing machine comes with various wash techniques. The machine can sense the fabric type and you can set the wash type according to the fabric. 
In the situation of power off the machine stops but when the power comes back it does not repeat the whole wash cycle from the beginning but starts the cycle when It's Stopped.
In the situation of any problem connect the washing machine with a smartphone app to understand the problem.
With a waterproof touch panel no need to worry about touching the machine with wet hands. 
You can lock the machine by enabling child lock for safety purposes.
The Stainless still drum ensures no bacteria, germs, no rust all this gives long life and makes It the best washing machine. 

Pros
Saving water, energy and time
Inbuilt heater for hygiene
Child lock feature for safety
Stainless still drum for long life
Cons
Very heavy in comparison to the other washing machines
2. IFB 8 Kg Fully Automatic Front-Load Best Washing Machine
IFB come in Top brands Manufactures front-load machine with good control option to enable the best washing experience. This is the Second best washing machine in India.
Main Features 
Automatic front load machine
8 kg capacity Best suitable for medium-sized families with 5 or more members
1400 RPM very high spin speed
programmed to wash clothes according to fabric type
Saves energy and water
Air bubble wash system: creates and releases agitated air bubbles throughout the cleaning. These bubbles activate detergent particles and lead them to penetrate deep even hard linen clothes to get rid of dirt and and impurities.
The Aqua Energie system: Treats hard water this system identifies bicarbonate in water and changes it into crystals. This treated soft water then allows detergent to dissolve properly and washes clothes carefully.
The touch panel is very easy to use you can program your wash cycle.
The time delay feature: enables the soaking of dirty clothes for periods ranging from 30 minutes to 24 hours.

Pros
High RPM ensures the drying of clothes
Fabric softener can be added
Washing heavy types of clothes like blankets.
Cons
Requires tap of a specific size during installation.
3. Bosch 7 Kg Fully-Automatic Front-Loading Best Washing Machine – WAK24268IN.
One of the famous international brand and best washing machine in India comes with excellent features and support different type of wash cycle
Main Features 
7 kg capacity best suitable for a family of 3 to four members
1200 RPM ensures less drying time
Super 15 feature can wash in 15 minutes to freshen up light-soiled laundry
Programmed for: Daily wash, wool, cotton, synthetic
Bosch is known for its excellent performance and with various features easy to use. 
The Active Water facility: saves water automatically. It can sense weight and fabric also. 
The Anti-vibration system: reduces vibration and the variodrum feature acts tough on the stain but is gentle with clothes.
Comes with a perfect speed feature It reduces time by 65%
Allergy Plus program: feature to keep your clothes hygienic by eliminating dust and other impurities.
Time-saving, energy efficient as well as machine does not make much noise. 
Child lock feature: can lock all features for safety purposes and comes with a unique water filter that fits in all types of taps

Pros
Excellent features for a good wash
Save time and energy
Prompt after-sales service
Cons
4. LG 6 Kg Fully-Automatic Front-Loading inverter Best Washing Machine – FH0FANDNL02
This front load Best washing machine comes with an inverter motor inbuilt heater and various other useful features best suitable to couples and bachelors for a 6 kg washing machine. 
Main Features 
6 kg is enough for small families and individuals
1000 RPM splining speed
6 motion direct drive technology
Inverter control
Inbuilt water heater
LG uses futuristic technology
Six motion technology: Can remove the toughest stain with the help of a drum that moves in multiple directions.
The direct-drive technology: By not using belts and pulleys it reduces vibration and noise and a good amount of money on maintenance.
Waterproof touch panel: This can be used with a wet hand and the Auto-restart option will start the machine where It was let off during a power outage.
Inbuilt water heater: Can heat water to 60 degrees It can remove the toughest stains and allergens. Now you can diagnose any problem with the help of the Smart application.
Rust-proof Stainless steel drum. Child lock facility can disable lock setting so, the child can not temper accidentally with it.
Tube clean facility: Heats water to 85 degrees to remove dirt and soap residue from the machine.
This best washing machine ranks in hygiene

Pros
Direct drive technology reduces maintenance
Hygienic wash with water heater facility
6 motion technology for toughest stain
Rat mesh presence additional advantage
Cons
The auto restart function does not work in child lock mode
5. Samsung 6 Kg Fully Automatic Front-Load Best Washing Machine – WW60M206LMW/TL
This energy-efficient washing machine comes with an excellent washing option and saves water.
Main Features 
Perfect for a family of 2 or 3 members with a 6 KG capacity
1000 RPM is perfect for this type of machine
Digital inverter and user-friendly touch panel
Ceramic heater stops calcium build-up
This washing machine works on a digital inverter motor that does not make much noise and vibration and this will end up saving electricity.
10-year manufacturer warranty on the engine. The volt control feature eliminates stabiliser use. It protect from sudden power off most common problem in small town and cities.
Diamond drum technology ensures tangle-free wash. A diamond-shaped groove on the inner surface of the drum separates clothes from tangling. Safe for delicate garments. Small water outlets drain the water quickly.
Apart from all these excellent features, It comes with amazing elegant looks.
User-friendly displays provide all the information you need and touch buttons are the lightest of touches.

Pros
Energy efficient
Diamond drum technology prevents damage to clothes
Excellent washing experience
Cons
LED display is difficult to see while operating it on the balcony
The dial does not have a marker
6. Samsung 6.2 kg Fully-Automatic Top load Washing Machine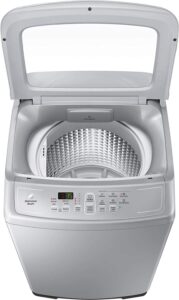 If you're looking for a high-tech washing machine which can be stored in a lesser area then this product is for you. This product is a fully automatic washing machine which attains a 6.2 kg washing tank. The design of this product is also impressive which decorates your house also. Now, let's discuss the features and specifications of this product to know more about it.
Main Features  
All the features of the Samsung 6.2 kg Fully-Automatic Top load Washing Machine are discussed below:-
Drum:- This washing machine attains a diamond-type drum design which attains strings like diamond cuts. This helps you remove every deep dirt from your clothes and provides you with the best quality output.
Tub:- The tub of this product l attains an ECO clean technology which avoids the harsh reactions on clothes through chemicals. So, you can easily wash your expensive clothes in it.
Wash:- It attains a quick wash technology with 5 different water levels. This product can take 28 gallons per cycle.
Controls:- The controls of this washing machine are also impressive. On this washing machine, you'll get a separate button for Blanket washing, Quick wash, Eco tub cleaning, and many other instructions. With the help of these control buttons, you can easily access your washing machine in no time.
Center Jet technology:- This Samsung washing machine comes with a centre jet technology that enhances your user experience and provides you with the best quality wash of your clothes. With the help of centre jet technology, your clothes are deeply mixed with your detergent, and the combination of centre jet technology with a diamond-cut tub provides you with extraordinary cleaning.
Washing Style:- This washing machine attains a dynamic washing style which includes Auto-restart and magic filter.
Compatibility:- You can easily wash the clothes of a family of 2-3 members in the washing machine.
Dryer:- The dryer of this washing machine is designed with superb quality. The Dryer of this washing machine attains Air Turbo technology which makes your washed clothes dry in comparatively less time.
Warranty:- You'll get up to 2 years comprehensive warranty with this product. Not only this, but you'll also get a 10-year motor warranty from the date of purchase.
Accessories:- In the pack of this washing machine you'll get 1 Washing machine, 1 Drain Hose, 1 Manual, 1 Anti-Rat cover, and 1 OT Hose.
Other features:- This washing machine attains multi-directional technology which helps to minimize twists and knots in the machine.
Specifications:- 
Product dimension:- 56.8 x 54 x 90.6 cm with a weight of 30.5 Kg.
Voltage:- It is a fully automatic washing machine which runs on 220 Volts.
Rotation Speed:- This washing machine manages a Maximum of 680 RPM (Rotations per minute).
Format and capacity:- This washing machine is a top-loading washing machine that holds a capacity of 6.2 kg.
Pros:
The capacity of this washing machine is impressive which can manage 6.2 kgs capacity.
The rotation speed of this washing machine is superb which comes with 680 RPM.
The design of this product attains superb built quality and upgraded features.
Air turbo dryer technology helps your clothes to dry in comparatively less time.
The cleaning feature helps to avoid damage to clothes by chemicals.
Fully child lock technology helps your child be safe.

Cons:
The thickness of this product is comparatively low.
Not suitable for joint families.
Verdict:- It's a superb product which attains lots of attractive features. If you're looking for a highly-designed washing machine for your new design home then you can surprise your family with this washing machine.
Different technologies:
Conclusion:
We tried to explain the best washing machine 2023 which suits every Indian home and also tried to explain how different features available in the latest washing machines and the use of these features.
You may choose the best option according to your budget and needs. If you want to know about any other washing machine or had any questions please feel free to write your suggestions in the comments. 
Read Also:-
Top10 best-selling Electronics on Amazon