How does Smart Home technology work for below smart home devices?
Smart Home devices are something that everyone loves but people think that they cost very high but now smart home technology grows and builds some useful and budget-friendly interconnecting devices that turn your home into a smart home and make your Life easy-going by controlling these smart home devices on your fingertips and sets smart home automation according to your comfort.
Brands that changed trends in technology like Xiaomi and Realme introduced some helpful smart home devices which expanded their product portfolio in 2020, you can imagine how it is comfortable you that you can control all your smart home products like lights, geysers, speakers, and many more by just tapping on your smartphone, especially for disabled and aged people love these Smart home gadgets. Well, you will find some of the budget-friendly smart home devices in this article that can help you to make your home a smart home IoT.
1.Realme smart Cam 360
Features:
You can use it as a security camera for indoor and outdoor
It comes with infrared night vision
1080P WDR Video recording with 3D noise cancellation
AI motion detection monitor to track moving objects with real-time alarm
Now on the iOS app store, the realme link is available.
You need to purchase an SD card separately not come within the product
Description:
A perfect security cam to keep an eye on your home as this smart camera comes with panoramic vision with a real-time motion tracking technic that recognizes moving objects, It supports two-way audio in real-time, Supports Up to 128 GB SD card able to record 1080P videos 14 days continuously, For privacy protection has a physical anti-sight switch and also set it to hibernate mode for a certain time through your Phone, It supports in low light and makes it a full-color vision, Come with a built-in Wi-Fi Extender which helps for organizations like schools, Hospitals where they need multiple cameras for that you need to connect all cameras to Wi-Fi but in realme comes with Wi-Fi relay which works as Wi-Fi extender and helps to improve network stability and supports two types of installation inverted and Upright. Comes in perfect smart home devices that make your home safe.

2. Realme Smart Plug 
Features
Remote Smart WiFi Control
 5-layer Safety Protection
Google Assistant & Alexa Support
100-250V wide range of input
Safety shutter for Childs
750C V0 Flame Radiant
Overheat Protection 
2000V Surge Protection
Description:
Realme Smart Plug turns your traditional appliances into smart home devices. You can control your appliance by connecting it through Wi-Fi Via realme link App. You can control it anywhere in the room or outside the room. You can turn off the light or Fan by just tapping on a phone it also works with Google Assistant and Amazon Alexa and all these features for just ₹ 799. 

3. Realme N1 electric toothbrush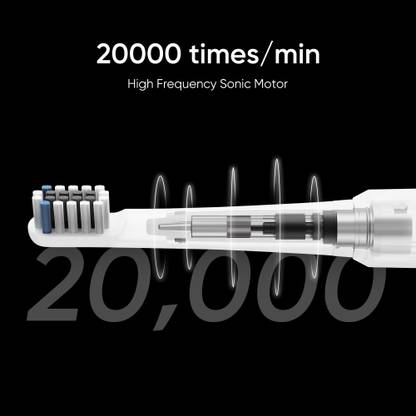 Features
130 days Battery Life
20,000/min High-Frequency Sonic Motor
DuPont 99.99% Antibacterial Bristles
3 Type of Cleaning Mode
800 mAh Large Battery
Water Resistance

Overcharge and Overvoltage Protection
Description:
Realme N1 electric toothbrush can be available for just Rs 699. On a single charge, you can able to use it for 130 days as per the company and the high-frequency sonic motor vibrates up to 20,000 times/min which helps to clean your teeth effectively. It operates silently with 55 Db noise. The brush head is made from special food-grade PP material and Its bristling also passed the American FDA test for a safe, hygienic, and healthy brushing experience DuPont 99.99% Antibacterial bristles prevent bacteria and it is 0.15 mm soft and very thin bristles work very softly which reduce any risk of tooth injury. It comes with a Blue indicator that lets you know when to replace the brush head. There were three types of cleaning mode Safe Mode- for sensitive teeth, Clean Mode- for Daily Use, and Polish Mode- for shining teeth. 

4. Realme Soundbar
Features
100W Soundbar System
2.1 Surround Sound Audio Channels
40W Bass Boost Sub-Woofer
60W Quad Speakers
Aux-In/Line-In/USB/Bluetooth 5.0/Optical /HDMI (ARC)/Coaxial
Description:
Comes with a Priced tag of Rs 6,999, the Realme Soundbar is equipped with 60watt full-range speakers and a 40watt subwoofer from a 2.1 channel acoustic system that delivers crisp and clear high-frequency sound and the deep Powerful bass helps to feel a cinematic viewing experience by sitting at your home. Comes with multiple ports and a connectivity option to connect it to a wire and also can able to connect with blue tooth wirelessly. A perfect choice for music lovers who are in search of these types of smart home devices.

5. Xiaomi Smart LED bulb (White)
Features
16 Million colors to Choose
Party, reading, Movie nights, and candlelight dinner modes to set according to the ambiance
Compatible with Amazon Alexa and Google Assistant and get control with your voice
Mi Home app helps to control lights on your mobile
A group light feature is also available which allows you to group Xiaomi smart lights as Mi smart Bulb to create suitable décor
Energy Efficient 105+ lumens per watt for a service life of approx. 11 years
Uses 9W with 950 Lumes
Description:
Xiaomi Smart LED bulb (White) costs Rs 799. You can set desired color lights for your room like red, yellow, Purple, and many more. Xiaomi introduced Mi Smart Led Bulb with the latest smart home technology. The B22 base is perfect for Indian Homes. You can set your desired light by just commanding in words by integrating it with Google Assistant and Amazon Alexa. You can also control it with your mobile phone with Mi HOME App. It comes with durable High-quality material which enhances the battery life of 25,000 hours. Smart lights offer 16 million colors and are the best suitable product in the Smart home devices category.

6. Mi Automatic soap dispenser
Features
Auto Hand Detection Sensor
Contactless and hygienic device
The silent motor works silently
Spill-Proof saves liquid
Premium matte finish design
Description:
Mi Automatic dispenser selling price is Rs 999. The most advanced and hygienic way to keep you healthy is by washing hands because of its contactless working technology 60 to 90 mm infrared sensing and 0.25 seconds quick dispense. The highly efficient motor works silently. Refreshing and long-lasting fragrance keeps your hand fresh and fragrant. Comes with the most elegant and premium design that keeps you safe and healthy.

7. Mi Smart speaker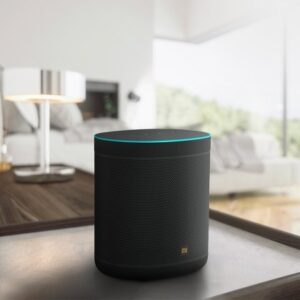 Features
Touch Control panel
Lightweight 853g
2 Mics, with far-field voice, wake up support
2.5 channel full frequency 12W support
2.5/5 GHz WiFi
Bluetooth 4.2, Supports an A2DP Music Player
Supports Android 4.4 and Ios 9.0 and above Version
Description:
This Mi smart speaker comes at the price of Rs 3,999. Comes with a Powerful 12W, 63.5 massive driver that covers a wide range of areas. With this beautifully designed speaker, you can feel crisp vocals and dynamic bass with DTS Professional tunning you can hear a clear distortion-free sound and any volume frequency. This smart speaker works on Hands-free technology you can easily play music, control the volume, plan your day, set alarms and many more will be operated by just your voice, and no matter if you don't know English you can operate it in the Hindi language also. You can connect it by WiFi and if you are offline then connect it with Bluetooth.

FAQ:
What do I need to make my house a smart home?
One way to build out a smart home is to buy lots of components—sensors, smart bulbs, security cameras, speakers, and whatnot—and connect them all to a hub that helps them communicate with each other and with you, via your smartphone.
How much does a smart home cost?
The average cost of a smart home is $1,000 per room, with most homes having an average of 5 "smart rooms" added.
Is there an app to control all smart home devices?
Yonomi is a free smart home app that makes it easy to sync all of your connected devices using a single app. It's designed to be the best and easiest way to create automated Routines and sync all of your smart home devices in one place. Yonomi partners with multiple companies in IoT creating innovative devices.
What are the benefits of a smart home?
To Be secure to live with all safety features established and makes life easy.
You May Also like to Read.