Fitbit Versa 2 Review: Fitbit is a famous American company that deals in fitness wearable which is now acquired by Google and now has seen a lot of competition from India. As we know, that FitbitVersa smartwatch has not got too much popularity in the market and was unable to get space in the market because many other companies are providing this type of smartwatch at a cheaper rate.
But the company has launched Fitbit Versa 2 in 2019, which has a lot of new features with premium quality. The company had committed that they have improved the quality of the smartwatch with some additional features. Fitbit Versa smartwatch is always compared with the Apple smartwatch because of its features and quality.
Design:-
Fitbit Versa 2  has a square-shaped dial with round corners. The design of Versa 2 is quite exclusive and has an amazing shape. The belt of Fitbit Versa 2 is very comfortable, which can be wear for a long time without any issues or any marks on our hands.
The smartwatch has an amazing touch quality and you can on its display for a long time but it will bit of impact on its battery.
Fitbit Versa 2 has all the fitness tracking features. With these features, you can track many things that will give you complete knowledge of your workout.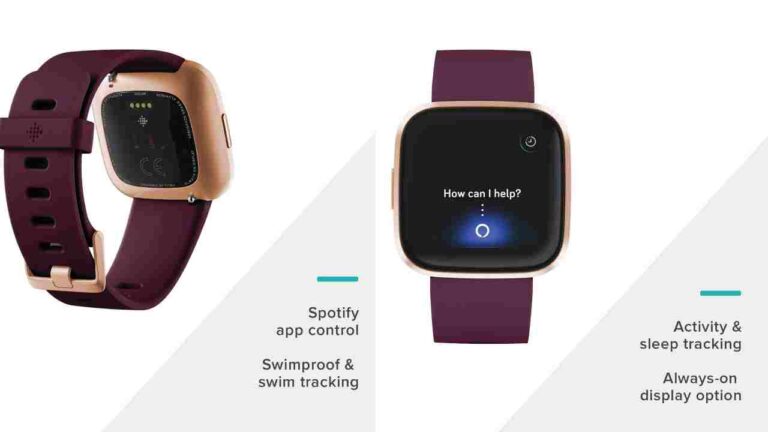 What should you expect?
You can expect a lot of things from Fitbit Versa 2 because if you are spending such a huge amount, then it is a natural thing that our expectation rises.
Fitness tracking features in this Versa 2 smartwatch will help you to in regular exercise and maintain your body fully fit. With its latest version of Fitbit OS 4.1, you can always set your LED display on.
You have to charge the battery in 5 days and if you are using in display on mode then you have to charge it in 2 or days which is not bad for a smartwatch, this amazing feature is not on every smartwatch, now you don't have to tap on any button to view the time and other options.
The case of Versa 2 is made up of aluminum which has round edges and the glass has a bit round shape. This smartwatch has one button on the left side.
With its improved version, you have not to face any issue of performance because they have updated it with a more powerful processor and now the user-interface of this watch is also attractive.
Key Features:-
This Fitbit Versa 2 has amazing battery performance and a user is getting an amazing product at an affordable range with included accessories. In this smartwatch, you can check the weather with Amazon Alexa built-in.
Performance:-
You have to carry your phone whenever you want to track the data. The performance of this smartwatch is amazing, you can check the accuracy by walking or running.
The heartrate you will measure with this smartwatch is also showing accurate data. With Amazon Alexa, you can easily know the quick news and information, check the weather, set alarms, and many more things.
You have to use a third-party app to perform all the functions with Amazon Alexa and Amazon Alexa is not available for all countries.
With this Versa 2 smartwatch, you can also operate your Spotify app. On the Spotify app, you can play your favorite songs by just searching it on the menu bar and you can do all these things with your Fitbit Versa 2 smartwatch.
You need to pair your phone with this smartwatch to get all the details of your workout. You can not track anything without using GPS and if your GPS is on then the battery life of your phone will go down.
Battery Life:-
The battery life of this smartwatch is very good if you will not on its display. It can run for a week without charging and if you will on the display then you have to charge it in 2 or 3 days. So, if you want more battery life, then you should pair this smartwatch only when you need to track the data.
This Versa 2 watch has a very good battery life as compared to others and if you want more battery life for this smartwatch then you should off the display mode.
With this Versa 2 smartwatch, you can track your heart rate and by tracking the heart rate, you can easily know your sleep quality.
Read Also : – Best watch brands in India 2020|
LED Display:
There is an AMOLED LED display, which is the biggest improvement if we compare it to its previous model. With this AMOLED LED display, the display of the watch gets more exclusive and it makes the look premium. You can connect this Versa 2 watch to your Android phone with ease.
With an amazing update of OS 4.1, you don't have to watch face, it will give you complete information without tapping anywhere. This watch face is not supportable in all smartwatches and when the company wants to add something new then watch face was the best option for them.
Activities:-
There are many other features you will get in this Versa 2 smartwatch, like an active minute, rate monitoring, voice command. You will also get a feature of paired smartphones through which you can view incoming messages and make quick replies.
You can also check any female health with this amazing Versa 2 smartwatch. Female health can be checked easily by the heart rate that can be measure with this smartwatch.
The heart rate can easily give you an idea to check the female health position and you can check the heart rate 24/7. If you are a sports lover then this fitness watch is perfect for you. With this fitness watch, you can easily check the daily status, of your running and with the daily status, you can easily know how many calories you have burned.
This smartwatch will work as a smart assistant for you and this smart assistant will also help in voice controls for your android phone. You can start your strength training with the help of this Versa 2 smartwatch. With strength training, you can start the exercise minute and this exercise minute will provide all the details of the workout.
There is an ambient light sensor that will tell you about any notification. You will not miss anything with the help of this ambient light sensor.
This Versa 2 smartwatch also helps in music support that you can play in the Spotify app and you as many songs you want. The heart monitor feature of this watch is amazing that will give you accurate information.
There is a side button when you will long-press it, Alexa will start asking your queries. When your phone is nearby you and you want to reply with your watch them there is also a reply option available from which you can easily reply to them.
All-purpose watch
This is an all-time-purpose smartwatch that you can wear anywhere you want. You can wear it to parties, gym, sports, or wherever you want. You will get all the smartwatch features in this watch.
There is a full-color screen which makes it perfect for the party and you can easily note your workout also.
This premium smartwatch will give you an amazing look with its attractive design and brilliant features.
| | |
| --- | --- |
| For India | |
| For Other Country | |

FAQs
1. How to turn of Fitbit Versa 2?
Ans. You have to open the settings in the watch, then tap on the About option and then tap on the Shutdown option. Now tap on Confirm shutdown.
2. Is the Fitbit Versa 2 waterproof?
Ans. We cannot say that it is waterproof, it is a water resistance product means that a normal amount of water doesn't harm the watch but more water can harm it.
3. Does Fitbit Versa 2 have fall detection?
Ans. Yes, Fitbit Versa 2 offers ECG and fall detection.
4. Should I buy Fitbit Versa 2?
Ans. If you want amazing features in your smartwatch, the Fitbit Versa 2 is an amazing option for you.
5. Can I answer the call from Fitbit Versa 2?
Ans. No, you will get only notifications of a call, you cannot answer it.
Final Words:- 
Fitbit Versa 2 is a perfect alternative to Apple smartwatches, the company had improved it a lot especially if talks about the display.
There is a lot of competition in the market for these types of smartwatches. The product was launched at a very higher price in 2019 but now the company has done a good reduction in price and now it is affordable for those who like to wear premium watches.