Best Smartwatches with SpO2 sensor
Best Smartwatches with SpO2 sensors are currently in demand in this COVID-19 situation due to the constant rise of its cases people become more cautious about their health and they should be careful. Well, you know about oximeter which keeps track of oxygen level in our body and before covid no one knows about this device because it's not the thing that generally you keep at home but now situation changed you need it anytime so, if you are planning to buy it then it's better to invest in the best smartwatches with SpO2 sensor with all other feature rather then just buying simple oximeter. The result might not be shown accurately but it will alert you whenever your oxygen level goes down.
What is SPO2 in Best Smartwatches?
The monitoring system used to detect oxygen saturation levels in the blood is known as s SpO2. Well, most smartwatches have this feature in this situation. In covid people became used to checking their oxygen levels. Many brands in the market built smartwatches with oximeters with SpO2 at an affordable price. The best smartwatches in India which are also categorized as the best budget smartwatches in India also are as Below:
Amazfit Bip U Pro Fitness band with spo2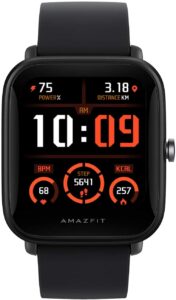 Specifications:
Design: User-friendly and very lightweight only 31g comes with a color touch screen.
Health Tracker: Comes with PAI Health Assessment, it will keep good track of your health by monitoring your heart rate and SpO2 for Oxygen Level.
Comes with 60+ Sports Modes and 5 ATM Water Resistance
Smart Alerts: Alerts to remind you of incoming calls and messages.
Charging: 9-Day Battery Life in single fully-charged, it will last for the full week.
GPS: Comes with high precious GPS and GLONASS positioning systems, helps to track accurate location
Electronic Compass helps to guide you wherever you want to go
Built-in Alexa: You can now talk with Amazon Alexa through Amazfit Bip U Pro and can control your smart home devices and more.
Description:
Amazfit Bip U Pro is also one of the cheapest and best smartwatches with a SpO2 sensor which helps to check the oxygen level in blood. Some of the features like the GPS Sleep quality analyzer and built-in Alexa feature help to control the home device which makes it unique. 5 ATM water Resistant and 9 days battery life is very useful for your long week tour and also used as a sports watch. For Women in menstrual cycles, an Ovulation tracker also will be there. This multifeatured cheap smartwatch costs you around Rs. 4,999 on Amazon and the company website.

Honor ES Watch- Black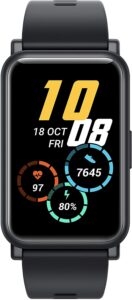 Specifications:
Display: Full Touch Screen with Auto Adjustment of brightness 4.16cm (1.64″) AMOLED rectangle display
Health Trackers: SpO2 Monitor (Oxygen Level monitor), Pulse Monitor, Sleep tracker & Stress level monitor
Charging: 10 Days Batter Life in Single Charge. Can able to charge 70% in 30 Min.
95 types of Work Out Modes and Animated Workout Courses up to 12 with 44 Animated Standard Body Movements, Auto Workout Recognition
Description:
This smartwatch comes in one of the best smartwatches available in the market and comes with a SpO2 sensor to check the oxygen level in the blood, a pulse monitor, a sleep tracker, a stress level monitor, and 95 types of workout mode and an animated workout exercises and  10 day-long battery life in a single charge is very useful, especially in travel which cost you Rs. 4,999

Noise Colorfit Pro 3
Specifications:
Design: Very Attractive clear display with 1.55 HD display and 320*360 resolution
Health Tracker: It will monitor your Sleep and SpO2 for Oxygen Level. Auto movement trackers
Comes with a 5 ATM Waterproof design
Noisefit App: It will help to analyze your health with a progress report, workout session, etc
Charging: 10-Day Battery Life in single fully charged for normal use, 4-Day for heavy use.
Connectivity: Bluetooth
Components: Smartwatch, User Manual, Warranty Card, Magnetic Charger
Description:
This smartwatch with oximeter also had a smart feature like others but you had the option to choose straps option and features like heart rate tracker, Oxygen Level monitors Blood and sleep Monitor like how are your breath quality and whether it is deep sleep or light sleep and rem cycle, keep track of your every movement like walking and running and its app noise fit app you can keep track your daily workout session and can able to analyze your health report. The total cost of the product is around Rs. 4,499.

Realme Watch S
Specifications:
Design: It looks premium quality and is also very durable due to the Aluminium Alloy case and Corning Gorilla Glass 3
Display: Auto adjustment of brightness and 3.3 cm TFT-LCD touchscreen
Health tracker: Continuous heart rate tracker and Oxygen level in Blood (SpO2) tracker
Smart Controls: Can able to control your music and also browse pictures
Smart Alert: You can get notifications of incoming calls and other alerts on your wrist.
Comes with 16 sports modes and is IP68 water-resistant
Charging: The unbeatable 15-Days battery in one single full charge and it takes only 2 hours to charge
Warranty: 1 Year
Description:
Realme Watch S comes with a round dial and with 1.3-inch touchscreen display. You can able to track Heart rate and oxygen level in the blood. You can manage all your alerts on your wrist and also able to control music and browse the phone gallery. It comes with 16 different modes and also connects with the Realme link app and visualizes all your health information on your phone. This is one of the best smartwatches available in the market and it costs you Rs. 4,999

GOQii Smart Vital
Specifications:
Display: It comes with a full touchscreen with 1.3 inches color display
Health Tracker: Oxygen level in Blood, Body temperature, Blood pressure tracker and Auto sleep tracking, steps tracker, and calories you burned tracking.
IP68 for Water-resistant and Dust resistant
Many other features like find my phone, music control, camera, stopwatch, timer, raise to wake, alarms, inactivity alerts
Smart notification: Manage WhatsApp, Facebook, calls, and SMS on the watch
Charger: 7-Day battery in single charge for normal use, comes with 2-pin magnetic charger
Description:
GOQii is smartly approved and registered as a medical device by central Drug and standard control organizations (CDSCO). This pocket-friendly best smartwatch Comes with a SpO2 sensor to monitor the oxygen level in the blood, a Body temperature tracker, a blood pressure tracker, etc. The blood pressure can track your systolic and diastolic blood pressure and you can get a direct report of it through GOQii App. It will track many other things like steps, distance, calories burned, sleep tracking, and active time that making it better than other best smartwatches. It's cost you around Rs. 5,699