Best inverter in India 2021: 
The Inverter is the device that is still people searching for it and it's a very useful device why? because Developing countries like India are still facing many problems. The electricity problem is one of them. In many regions of India people are still facing the electricity problem. They didn't get proper electricity facilities in their regions.
Well, it is also true that the Indian government works hard and has a huge success in the production of electricity but still, they are unable to provide a 24/7 electricity facility in the whole country. Many Indian and international companies present a device to overcome this problem. The device is called an inverter and I think we all know about the inverter.
Now without wasting time let me introduce you to this in Details.
Top 10 Best inverter in India
1. Luminous Zelio 1100 Home Pure Sinewave UPS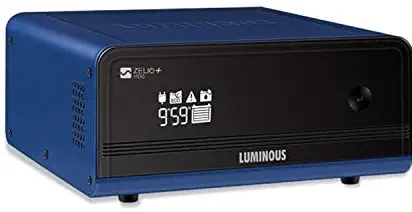 Luminous Zelio 1100 Home Pure Sinewave Inverter UPS is the most intelligent home inverter in India. The power backup time of the product is very impressive. It gives you protection from Overload, deep discharge, short-circuit, Reverse polarity, and Input mains protection. The running load of it is very impressive. You can use CFL, 3 Tube lights, 3 Ceiling Fans, 1 Television, and 1 air Cooler easily.
If you wanted to buy it then you can buy it from Amazon.com.
2. Luminous Zolt 1100 Inverter Sine Wave Home UPS (Blue)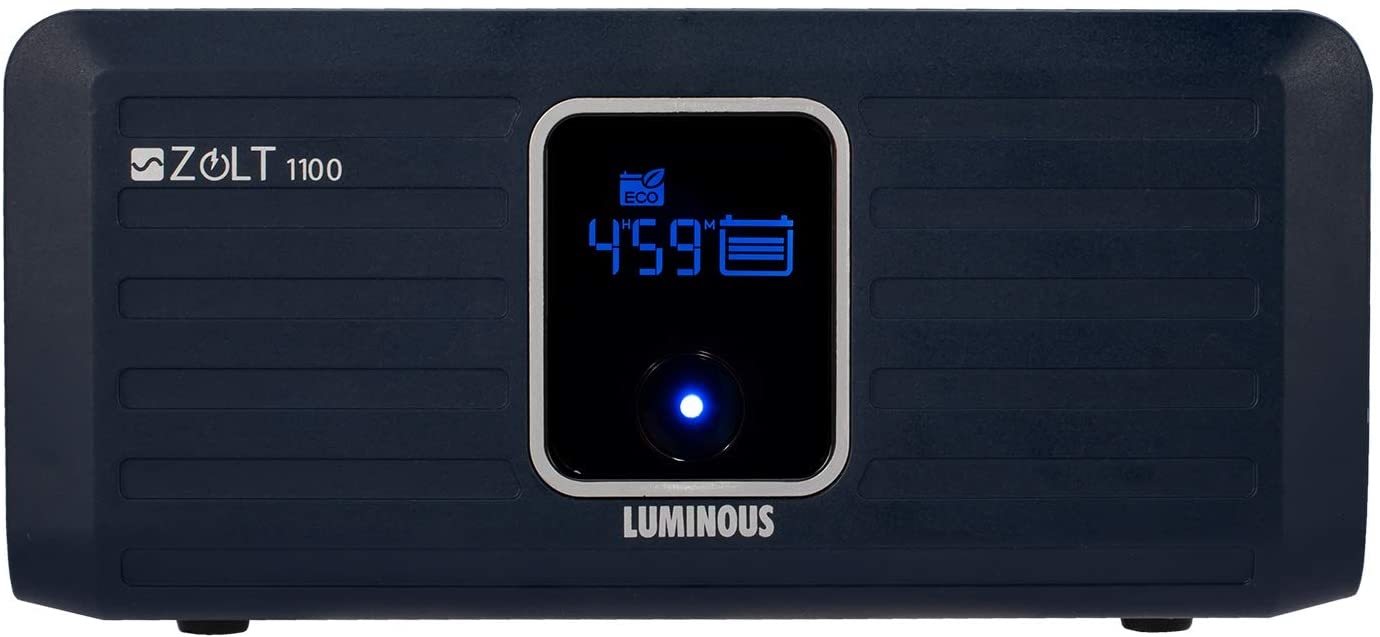 This product has an inbuilt alarm which helps to know the problems of
short-circuit
wrong wiring
battery overcharge
overload
low battery
This product can take a load of LED TV 40"- 75W, Fan 1200mm – 80W, Refrigerator – 200W, AC 1.5 Tonne – 2000W. It is an efficient Sine Wave Inverter with a capacity of 900 VA and 756W rated power. Max Charging Current of it is 15 (in Amperes). You can buy it from Amazon.com.
3. Microtek Inverter UPS EB 900 (800Va) 672 Watts Digital Inverter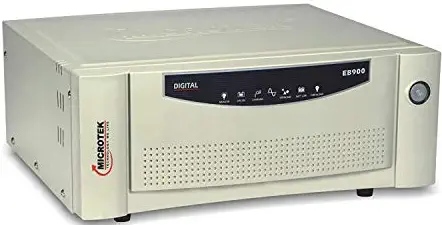 Microtek UPS EB 900 (800Va) 672 Watts Digital Inverter is also a very good device. It provides a wide range of inverters to its customers. It is durable and long-lasting. The weight of this approx 10 kgs. The company provides a 5-year warranty to its customers. The battery backup of this is about 6 to 8 hours when fully charged. The maximum charging current is about Charging 10 Amps.
4. V-Guard Prime 1150 DUPS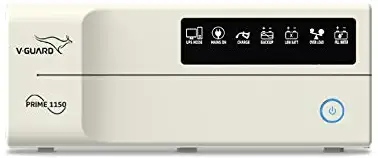 V-Guard inverter Prime 1150 DUPS is known for its high performance. It is the best in class performance. It has great power to manage many loads like 1150 runs LCD/LED TV (Up to 49), mixer grinder (up to 600 W), water pump(0.5 HP Monoblock), inverter refrigerator(Up to 260 L), Room Cooler (Up To 200W), Kitchen Chimney (Upto 1000 m3/hr), exhaust fans, air purifier, water purifier, music system, wi-fi router, etc. You can buy it from Amazon.com.
5. Microtek UPS SEBz 1200 (850 Watts) 1100VA Pure Sine Wave Inverter
The Microtek inverter output power is approx 850 watts. The company gives you a 2 years warranty with it. The battery of its very impressive because The UPS has In-built Electronic Protection Circuit which protects the Batteries from getting Deep Discharged. The company also established a protection mode in it which notify you when some problem appears in it.
6. Zebronics 600 VA UPS-U725 for Desktop/Computers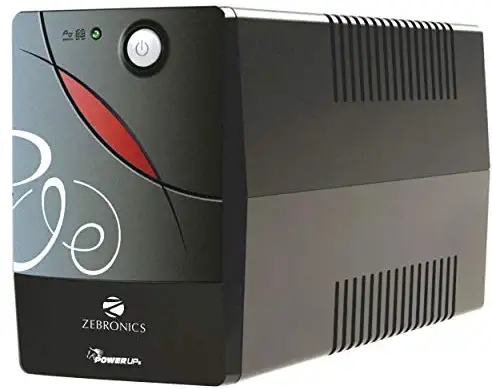 Zebronics Inverter 600 VA UPS-U725 for Desktop/Computers has Automatic Voltage Regulation (AVR). This increases the efficiency of this it. The charging time is approx 6-8 hours. The company also provides sleeping mode charging for increasing its efficiency. LEDs and alarms notify the status condition of it.
7. Hitachi 1.8 Ton 3 Star Inverter Split AC (Copper RMD322HCEA White)
Hitachi is one of the best international and home appliance companies. This company provides you high-tech inverters and many other appliances. It contains Split AC with an inverter compressor which makes this product unique.
The company gives a warranty of 1 year for the product, a 1-year condenser warranty, and 5 years compressor warranty. It comes with Indoor Unit, Outdoor Unit, Remote Control, User Manual, Warranty Card, Connecting Pipes. The price of this product is 49,850rs. You can buy it from Amazon.com.
8. Luminous Hkva 2 Kva Sine Cruze Wave UPS  (Silver)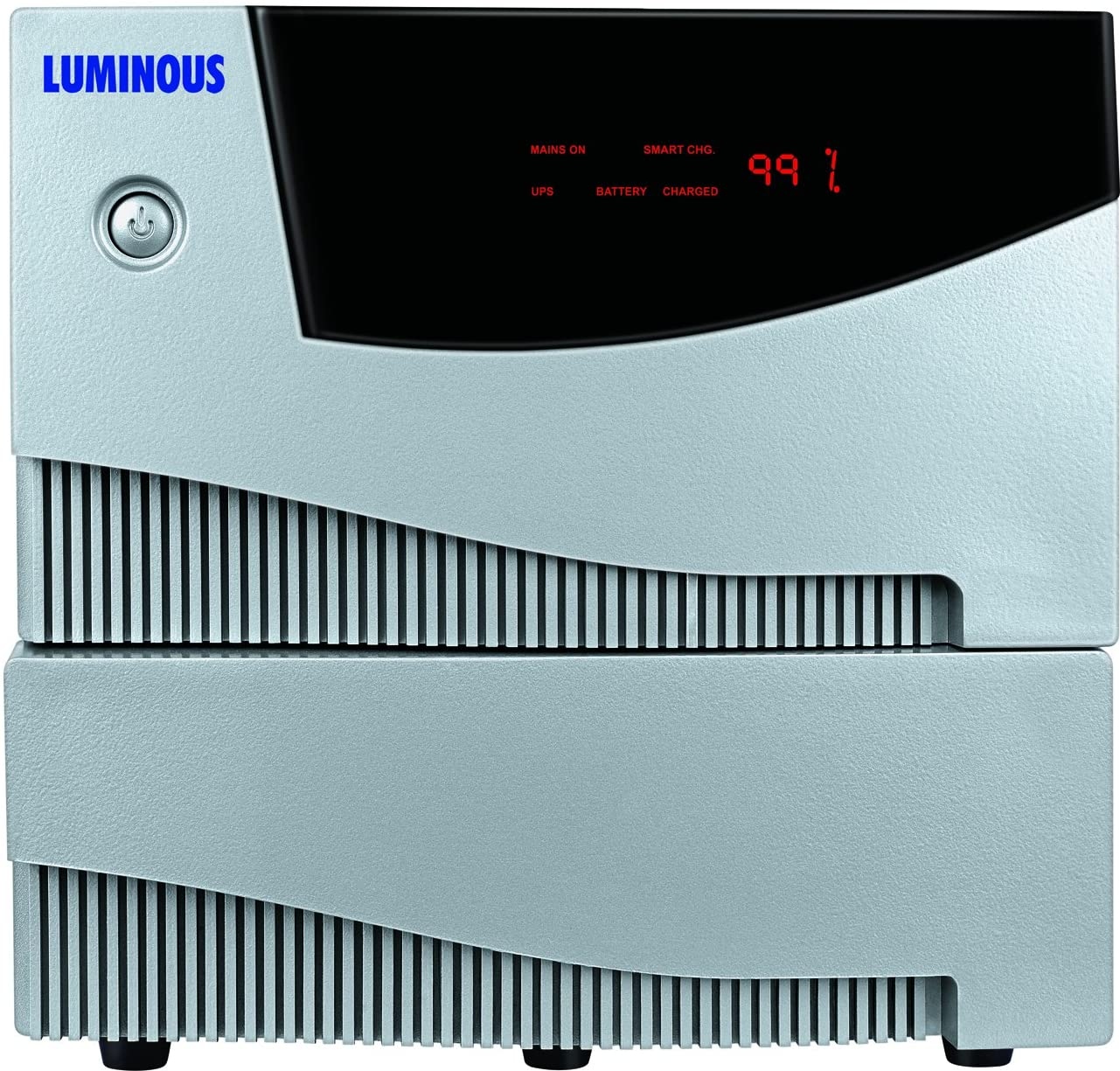 The luminous inverter has a high overload capacity and advanced management battery which improves the battery life of this product. The power backup is also very high-tech and strong. It comes with Adaptive Battery charging control system technology (ABCC). The company takes care of every aspect of it.  It has a very good design which enhances the looks of the product.
9. Luminous Eco Watt + 850/12V
If you want a cheap luminous inverter then this can be your first choice. This one is the No.1 selling Home inventor of the year. This is a Square wave output appliance. it can easily handle CFL, tube light, ceiling fan, bulb, LED TV, and refrigerator also. The maximum power consumption of it is approx 516Watts. Not only this company gives you a 2 years warranty with this product. The 3 stage charging technology which helps you to identify the battery stage.
10. V-Guard Smart Pro 1200 with Bluetooth Connectivity Digital Sinewave UPS with Free Installation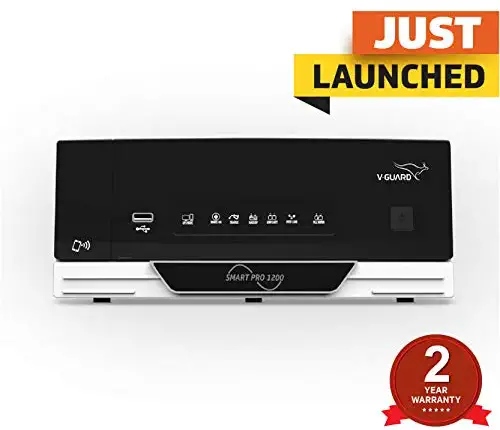 This product is the latest V-guard inverter. The company also gives a free installation facility with this product. It comes with a super turbocharger which charges the battery 30% more than the turbocharger. It can handle a water pump(0.5 HP Monoblock), refrigerator(Up to 260 L), LCD/LED TV (Up to 49), room cooler, kitchen chimney, exhaust fans, and many other appliances.
This is a very high-tech product from V-Guard which was recently launched by the company on amazon.
So, here we shared the list of the top 10 Best inverters in India of 2021. All the listed products are available on Amazon.com. So, If you are willing to buy one of them then you can buy it from Amazon.com.